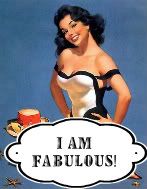 So, I have been tagged again. This one is a little harder for me than the other one where I had to get a picture from my file and explain it. This one says I need to list the reasons that I am fabulous. So here goes...

-I have been a faithful and loving girlfriend and then wife to Gordon for 26 years! Married for 17 of those.
-I love my in-laws(yes, I do)
-I enjoy the simple things in life, like watching out the office window at my chickens pecking around for good treats in the ground.
-I love spending time with my children and am a good mommy.
-I am living life to the fullest, with God in charge of it all.
-I have great friends that I love dearly.
-I am taking an online course to get my degree in Medical Transcriptioning while being a mom and a farm wife.

Ok, I know you are all thinking that there is a ton more to list, but my fingers are tired from typing. Love you all!!!